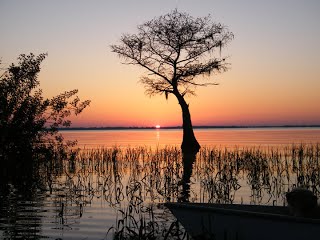 Middleton's Fish Camp is about an hour from Disney World and Central Florida, about 45 minutes from Vero's beautiful beaches, and about 20 miles from shopping. Middletons is 18 mi. west of I-95, off St. Rd. 60.
If you get to Yeehaw Junction, you went 6 miles too far. Turn around and come on back.
From SR 60, you will turn on Blue Cypress Rd. and travel about 5 miles down a rustic (dirt) road that winds through pastures, fields, and wetlands, ending at the Blue Cypress Lake Village. From there, you can follow the signs to the Bait and Tackle Shop.
If you get lost, call us! 
772-473-1885
.
GPS address
7400 Blue Cypress Lake Rd.
Vero Beach, Florida 32966
From Vero Bch, FL city limits to Middleton's Fish Camp
Head west on FL-60 W/20th St toward 12th Ct
Continue to follow FL-60 W
25.6 mi
Turn right onto Blue Cypress Rd
4.3 mi
Turn right toward 73rd Manor
0.1 mi
Continue onto 73rd Manor
*Destination will be on the left
*(These directions came from Google Maps. The road to the Bait & Tackle Shop now leads to the left and circles the building, so your destination will actually be on your right)
---
From Yeehaw Junction, FL to Middleton's Fish Camp
Drive 11.3 miles, 18 min (It's only 6 miles from the Florida Turnpike to Middleton's Fish Camp).
Head southeast on FL-15 S/US-441 S toward FL-60 E
105 ft
Slight left onto FL-60 E
6.7 mi
Turn left onto Blue Cypress Rd
4.3 mi
Turn right toward 73rd Manor
0.1 mi
Continue onto 73rd Manor
*Destination will be on the left
*(These directions came from Google Maps. The road to the Bait & Tackle Shop now leads to the left and circles the building, so your destination will actually be on your right)